Pamala Kipka
Associate Director of Operations & Accounting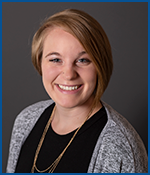 Pamala is currently the Associate Director of Operations & Accounting.
She recently graduated from Concordia College in Moorhead and received her Bachelors in Business – Finance. She has interned with UMACHA for the last 4 summers and during her breaks but was just recently hired full time in May of 2018.
Pamala likes spending time with her big family, spoiling her nieces and nephews, shopping, eating food, baking and cooking, but most of all she likes to sleep and take naps!
What is Your Role at UMACHA? This position performs bookkeeping responsibilities, generates accounting reports, and supports Senior Director of Operations and Membership with month end financial reporting. Responsible for supporting and coordinating all UMACHA events, working closely with the Education Services Department, to ensure all events are successful. Coordinate the publication program for all UMACHA products and those re-sold from other associations.
What are Three Words to Describe UMACHA? Friendly, Efficient, and Virtual
What has Been Your Favorite Project at UMACHA? My favorite project that I worked on at UMACHA will always be the process of booking hotels and setting the events up from start to finish.
Where Would You Like to go on a Dream Vacation? My dream vacation would be going to Paris to see all the museums and looking at all the sights that Paris has to offer but seeing all those things with my daughter.
You are Happiest When? I am happiest when I am spending alone time with my daughter and watching her grow. She is learning new things every day and growing so incredibly fast. I am the happiest when I am with my daughter.
Are You Messy or Organized? I am ORGANIZED. So, organized that my shirts are in rainbow order and sorted by sleeve length. Did I mention that my DVD's are in alphabetical order!
Least Favorite Food? My least favorite food is definitely canned peas and Reese's Peanut Butter Cups