Stephanie Ihbe, CTP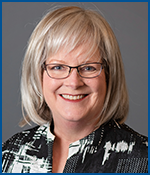 Stephanie is currently serving as Member Services Advocate for the Upper Midwest ACH Association (UMACHA). An experienced banking professional with emphasis on commercial services and relationship management.
Her 35+ years of banking experience includes 15 years in Cash Management Operations and 23 years in Treasury Management and International Banking Sales and Product Development. Stephanie is a certified treasury professional (CTP) and past member of UMACHA Board of Directors.
She has a bachelors degree in Economics and Sociology from the University of Wisconsin - Madison. Also, in 1992 she became a Certified Cash Manager. Stephanie applies her broad base of Payments expertise to provide solutions for members and their customers throughout the UMACHA foot print.
On a personal note Stephanie and her husband Tom enjoy travel, visiting their kids, bike riding and boating on the St Croix river.
What is Your Role at UMACHA? I have a new role at UMACHA called Member Advocate where I will focus on strategies and efforts to improve our members experience and engagement with our organization.
What are Three Words to Describe UMACHA? Member focused organization!
What has Been Your Favorite Project at UMACHA? Working with the team on reviewing association management software options to better position the organization for the future.
Where Would You Like to go on a Dream Vacation? New Zealand
You are Happiest When? I am doing anything with my family and dog. My husband and I enjoy bike riding and boating on the St Croix River. We love to travel and hope to do more once we are through the COVID times. In addition, we have our first grandchild coming in early 2021 which we are thrilled about and can't wait to meet her!
Are You Messy or Organized? I will admit messy and my husband will second that – ha!!!

Least Favorite Food? Green Peppers