Sara Hentges, AAP, APRP
Director of Compliance Services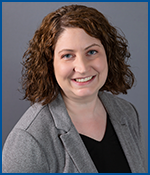 Sara has 10 years of experience in the banking and financial services industry. Her primary responsibilities at UMACHA are completing ACH audits, risk assessments and assisting with compliance- based education. Prior to starting with UMACHA in 2018, Sara served as The Customer Service Manager for Citizens Independent Bank. Her main focus included customer service and deposit operations, with a specialization in ACH, wires, cash management, and online and mobile services. She was also the subject matter expert on several federal regulations, rules, and guidelines. Sara obtained her AAP certification in 2016.
Outside of work, Sara loves spending time with her husband and two cats. She is an avid reader and enjoys attending book club. She is also a self-proclaimed foodie that has a passion for cooking.
What are Three Words to Describe UMACHA?
Experts, Dedicated, and Warmhearted
What has Been Your Favorite Project at UMACHA? My favorite project at UMACHA has been creating a publication to fill the void that was left when the corporate edition of the Rules was discontinued. I love to write, and creating the Corporate User ACH Basics Electronic Guide was very fun for me.
Where Would You Like to go on a Dream Vacation? I would love to travel throughout Europe, but especially Spain and Italy. I enjoy a great bottle of Albariño or Barolo, and am a huge foodie. I also have an appreciation of art, history, and museums. My husband and I are huge nerds, and have a great time watching Rick Steves on PBS. We would definitely have a blast travelling around Europe!
You are Happiest When? I am happiest when I am at home watching a good movie with my husband and two cats. I love a good documentary or horror film.
Are You Messy or Organized? I am a little bit of both. Messy when I can be, and organized when I need to be.
Least Favorite Food? I am not a picky eater, but the one thing I absolutely don't like is a sweet potato. I have never liked them, but do try them again every once in a while. Mashed sweet potatoes are the worst!