Jennifer A. Miller, AAP, APRP, PMC
Senior Director of Services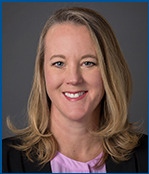 Jennifer A. Miller, AAP, PMC, has spent the last 25+ years in Banking with the last 19 years in software product management, design and consulting, and the prior 7 years at a Midwest Financial Institution. Jennifer is currently the Director of Training with UMACHA specializing in working with Financial Institutions and corporates on education and training of Electronic Payments. She is responsible for creating and delivering training programs to drive client satisfaction by balancing regulation with managing market expectations in innovative ways. She is an experienced Cash Management Professional, with progressive leadership experience in Financial Institution and Software Development with a proven track record of meeting deadlines with consistent quality and detail. Intense knowledge of Agile, Stage Gate, and Contextual Inquiry Methodology. Skilled at team building and collaborating cross functional projects related to Matrix Managed Environments involving multiple departments. Highly motivated, autonomous and flexible with excellent listening, written and verbal communication skills to accomplish any task. Specialties include: Teaching and educating on Business Banking, Launching innovative web technology, Product management, Business analysis, Sales engineering and Product marketing for internet/mobile banking and electronic payments, as well as, service quality monitoring, speaker/presenter, team management and customer relationship building. Retain the AAP Certification, PMC Certification and extensive United States Army Leadership.
On the weekend and evenings Jennifer is active in her community and civic leadership as Secretary and Treasurer for local chapter non-profit. She also enjoys gardening and yardwork in the summer, and playing with her dog year round outside.
What are Three Words to Describe UMACHA?
Knowledgeable, Expert, Fun
What has Been Your Favorite Project at UMACHA? My favorite project at UMACHA is probably an annual one, its when I get plan the education calendar for the upcoming year. Its so much fun coming up with newest topics for what our members are asking for in regards to education
Where Would You Like to go on a Dream Vacation?
My dream vacation would be to go to Egypt and climb the pyramids, see the sphinx and taste the food of the region! Not to mention the sun and sand, warmth is my middle name!
You are Happiest When? I am happiest when I'm at home surrounded by my family and dog. I love the winter around the fireplace with a good movie or in the summer on our deck with the sun and good glass of wine!
Are You Messy or Organized? Definitely organized but in a organized chaotic way, I know exactly what's in each pile and each list and where to find anything paper is a necessary evil ?
Least Favorite Food? I had to laugh when I read this one and then read the employee spotlight highlighted prior to me, Danyell and I have exactly the same least favorite food PEAS! Hate them, always hated them, when I was younger, I had to eat at least 3 when they were served for dinner, yuck!