Jason Johnson, AAP, APRP
Associate Director of Education Services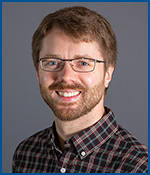 Jason Johnson joined UMACHA in 2019 after spending five years working for a community bank on the border of S.E. & N.E. Minneapolis. His background includes experience with teller services, bookkeeping & customer service.
As the Associate Director of Education Services, Jason is excited to assist UMACHA in advancing its education program while delivering the highest quality of service to its members. Jason's background, along with his passion for ACH & other payment services, will make him a valuable member resource for years to come.
Jason, his wife Nicki & their dog Sprout enjoy most outdoor activities including camping, hiking, fishing, kayaking & attending music festivals.
What are Three Words to Describe UMACHA?Passionate, helpful, friendly
What has Been Your Favorite Project at UMACHA? I really enjoy being involved in the training we conduct for those interested in sitting for the AAP exam. It provides a nice blend of webinar training & in-person training on a topic I really enjoy (ACH). Secondary to AAP training is a current project to
re-organize our shared drive folder. All UMACHA departments utilize this drive &, just like any dwelling, it has become a bit messy over the years. I love to take a large number of unorganized items & put them in a proper location.
Where Would You Like to go on a Dream Vacation? Actually, I feel like I've already been on my dream vacation. In 2018, my wife & I traveled to Banff National Park in Alberta, Canada (about an hour west of Calgary). Between the hiking, the scenery, the people, & the food, I truly couldn't image a better vacation. I truly cannot recommend visiting Banff enough! Just type 'Banff' into your google-machine & behold the glory that is Banff National Park.
You are Happiest When? I am happiest when I get to travel with my wife, Nicki. We make such great travel companions, as we enjoy many of the same activities, locations, & cuisine. We travel to Tennessee almost every year for a music festival called Bonnaroo, & though we could fly there, we intentionally make the 15+ hour road trip to enjoy more time with one another.
Are You Messy or Organized? Fairly organized unless we are talking clean laundry. Then, throwing the contents of the basket on the spare bed is all the organization I require.
Least Favorite Food? Mushrooms & beans. The latter is the result of my parents offhandedly calling kidney beans in chili June bugs as a joke. Least favorite animal? June bugs. It's a vicious cycle.