Danyell Pozorski, AAP
Senior Director of Operations & Membership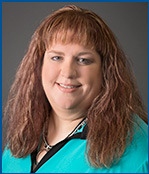 Danyell currently serves as the Director of Association Services at UMACHA, where she is responsible for all things membership such as the member database, dues, registrations, invoicing and marketing. She is also responsible for UMACHA's financial reporting.
Danyell has been a part of the UMACHA team for over 9 years now. Prior to joining UMACHA, she worked in the accounting industry for over 12 years.
Danyell is currently part of the Navigating Payments committee and holds the AAP accreditation.
Danyell enjoys spending time with her family, listening to music and scrapbooking.
What are Three Words to Describe UMACHA?
Experts – Helpful – Friendly
What has Been Your Favorite Project at UMACHA? Working at UMACHA for over 10 years now I have worked on many different projects but I would have to say my favorite project so far would be the researching and number crunching (as I am a numbers geek) that went into the decision making process of whether or not we should change to our dues structure. I know it sounds crazy to some but numbers, calculations and research are at the top of my favorite tasks list.
Where Would You Like to go on a Dream Vacation? I have always wanted to go to Alaska. I am extremely excited as my family (parents, siblings, nieces, nephews, and even some aunts, uncles and cousins) recently booked a seven-day Alaskan Cruise for 2020. I can't wait!! (**Edited: COVID 19 has pushed Danyell's Cruise back to 2021**)
You are Happiest When? Spending time with my family or friends. I am immensely looking forward to the addition of some new babies into our family. Snuggling, cuddling, spoiling new babies brings me great joy.
Are You Messy or Organized? I would have to say I am an organized person.
Least Favorite Food? Peas are my probably my least favorite food. I think it is just a texture thing but as far back as I can remember I have not liked peas