Andy Benhardus, AAP, APRP, NCP
Associate Director of Compliance Services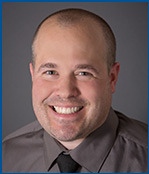 Andy is part of the Compliance Services Department at UMACHA. Andy's main duties are doing ACH Audits, ACH Risk Assessments, RDC Risk Assessments and handling member phone calls. Prior to joining UMACHA, Andy worked 14 years for a community bank with 11 of those years spent in their operations department.

Andy enjoys playing fantasy sports, watching sports and spending time with his son.
What is Your Role at UMACHA? Associate Director of Compliance Services

What are Three Words to Describe UMACHA? Knowledgeable, friendly, tacos

What has Been Your Favorite Project at UMACHA? Getting to go on-site to meet our members while doing audits

Where Would You Like to go on a Dream Vacation? Cooperstown, NY. The site of the baseball hall of fame.

You are Happiest When?
When I am spending time with family and friends. Another time is when the pandemic is over, I will love to have a day off of work at home by myself to just relax with nothing to do
Are You Messy or Organized? Both at times

Least Favorite Food? Mushrooms